What's New

0% APR on
Balance Transfers
Consolidate all your credit cards into one and pay less on interest.
Coast Mobile App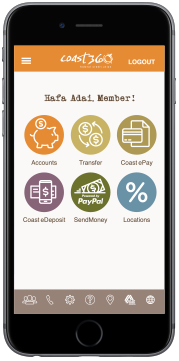 Manage your money on the go with Coast Mobile. Our mobile banking app is available on your app store for free. Search "Coast360" to download. Learn more...

Information
ANNUAL MEMBERSHIP MEETING & ELECTION
Exercise your right to an equal vote for our Board of Directors at our 54th Annual Membership Meeting and Election held on Wednesday, March 29, 2017. Read more...
Your Coast360 Cards will soon be replaced with an EMV Chip Card.
The EMV chip provides enhanced protection against counterfeit fraud when used at a chip-enabled merchant terminal or ATM. Learn more
Important information regarding your ATM card
Effective October 1, 2016, all ATM cards will be replaced with a Coast360 debit card upon card renewal. Read more...
Financial
Resource Center

Community & News
Go to main navigation