What's New
Money Market Share
Earn higher dividends on your share while keeping your funds fluid.
Rates up to
0.95% APY*
Click here for more details.

Information
Call for Nomination
Interested in serving as a Board of Director for Coast360? Click here for details.
Coast Mobile App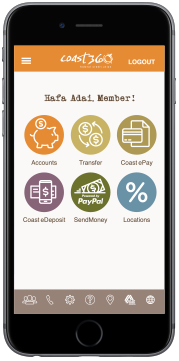 Manage your money on the go with Coast Mobile. Our mobile banking app is available on your app store for free. Search "Coast360" to download. Learn more...
Deposit Checks Online
Coast Mobile Users: Coast360 checks are now accepted through the eDeposit feature. Learn more...
Financial
Resource Center
Go to main navigation