What's New

0% APR on
Balance Transfers
Consolidate all your credit cards into one and pay less on interest.

Information
Kmart Breach Alert
Kmart confirmed a security breach that affected credit and debit cards used at their stores between September 3, 2016 to April 30, 2017. Learn more...
Coast Mobile App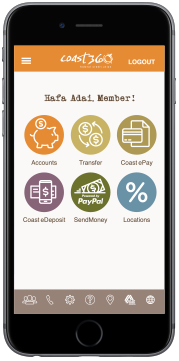 Manage your money on the go with Coast Mobile. Our mobile banking app is available on your app store for free. Search "Coast360" to download. Learn more...
Coast360 EMV Chip Card.
The EMV chip provides enhanced protection against counterfeit fraud when used at a chip-enabled merchant terminal or ATM. Learn more
Financial
Resource Center

Community & News
Go to main navigation